© Julia Austin-Brenes. All Rights Reserved. E&OE. Site by Basiq Design.

Music
Heads Up and all that Jazz…
I'm a member of Heads Up, a jazz quartet based in Essex,
playing melodic modern jazz with a bluesy, funky edge.
As well as standard tunes plus original compositions, the
band also play their own arrangements of contemporary
songs by various well known popular artists from various
genres including pop/rock, soul/funk.
My Tenor, Alto and Soprano saxes, along with my Alto
Flute, form an integral part of the sound of Heads Up.
"...we were treated to their delicious interpretations of
diverse material by the likes of Dave Brubeck, Amy
Winehouse & Bob Marley, as well as the Rolling Stones,
David Bowie, the Police and even Pink Floyd, plus their own
compelling original compositions..."
(Redbridge Green Fair Music Club, August 2019)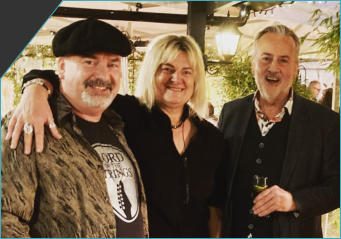 Teaching / Saxophone Group
I am an experienced woodwind tutor in flute and
saxophone specialising in improvisation.
I currently run a course for intermediate saxophone
players at Bishops Hill Adult Education Centre...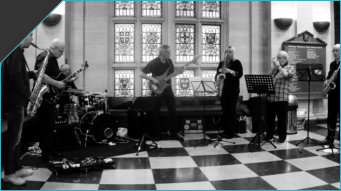 Other bands/music
I was initially classically trained at Trinity College of Music, but moved
to Jazz and Blues after changing to the saxophone. After working with
the Richard Dobney Blues Engine for several years, I went on to play
with Blues Brothers International, The Blox, and a jazz four piece,
Groove Therapy. I have recently become involved in Latin Jazz and have
also played at the annual Jazz festival in Havana. In addition to playing,
I teach jazz theory and saxophone in Adult Education.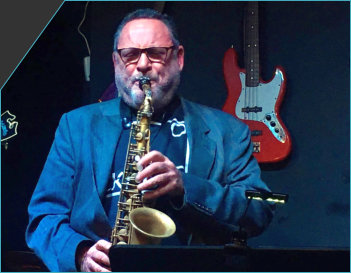 …The course is a practically based evening class for anyone
wishing to improve their playing and learn more about
improvising in a friendly and supportive atmosphere.
In addition we regularly host guest tutors and offer the
opportunity to play with a live band.
I am also listed as a tutor at Sax.uk
Guest tutor Gilad Atzmon

(photo: Gary Bennett)
With Heads UP and members of the saxophone group
at Chelmsford County Hall
Heads UP in concert at Union Church, Shenfield